I have a Wireless Mouse Keyboard Combo using the same with Windows 10 and Manjaro. The Mouse's Scroll Wheel was not working Properly i.e. Automatic Jump, Wrong Navigation ETC science last week. So I tried all suggested Software or System related solutions but unfortunately, none of them worked for me. Thus I decided to look inside the Mouse and solve it from inside. And luckily I did it (Watch Video Below).  So In this article, I am sharing all the methods to solve Mouse Scroll Wheel Not Working Properly Problem.
Using Methods listed in this Article You can Solve these issues 
Scrolling is too slow or too fast
Scrolling at the opposite direction
Automatic Page or line jump / Auto Jump.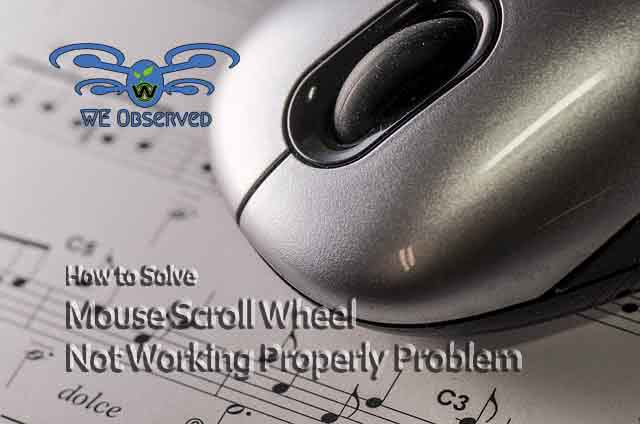 As per our researc, We Observed that Mouse Scroll Wheel Not Working Properly Problem could be a Software (Windows 10), Driver or Hardware related issue. I am including all because there are peoples who solved this issue just by reinstalling the driver, and there are also some people " of course including me" who solved this issue by dissembling the mouse CTDI's BeeKonnect Wireless Mouse.
How to Solve Mouse Scroll Wheel Not Working Properly Problem
There are Some Methods to Solve this Problem. All are easy and Listed one by one below. You have to try them one by one and after trying each method you have to check the Mouse and it's working. If the Mouse Scroll Wheel Problem Solved then enjoy, and if Not, then try the next one.
Method 1: Change Batteries
If you have Wireless mouse then this problem can occur due to the low power of Battery. First of All, Replace the old batteries with the new ones and check, if the problem got solved. If not, or you have a wired mouse move to the next method.
Method 2: Adjust Mouse Scroll Wheel Sensitivity and Line Jump
Click the Start button
Click on the Settings or Control Panel
Click Hardware and then click Mouse.
Click the wheel tab and reduce "The following number of lines at a time" at 2 or 3.
You May Also Like: How To Fix File is too Large for Destination File System, All Methods
5 Methods to Solve Windows 7 not auto connecting to LAN on startup
Method 3: Solve Mouse Scroll Wheel Problem by Reinstalling the Driver.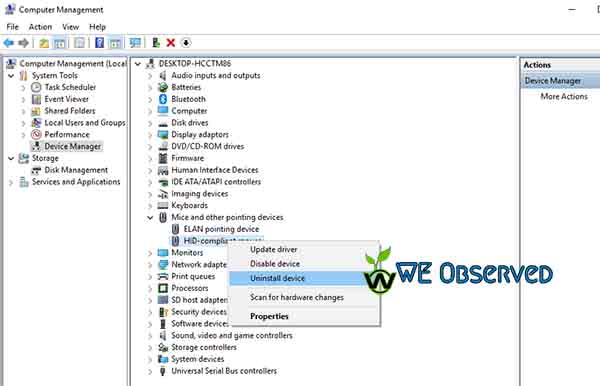 Right Click on 'My Computer/ This PC'.
Tap on 'Manage'.
Click on 'Device Manager'.
Click on 'Mice and other Pointing Devices'.
Now Right click on 'HID Compliant Mouse'.
Now Click on 'Uninstall Device'.
After uninstallation Remove the Mouse cable/ dongle.
Reinsert the Dongle or cable and let windows to detect and install the driver.
Now check the problem and working of the mouse. If the problem solved then fine if not, then the problem is hardware related.
In this case, Check the final Solution to solve Mouse Scroll Wheel Not Working Properly Problem by some disassembly work.
Method 4: Solve Mouse Scroll Wheel Problem By Doing some Hardware Adjustment
So if you reached the last method, let me tell you first that every mouse has a different arrangement and can look different. But We Observed that we just have to do some adjustment around the scroll wheel so keep everything safe and follow the procedure shown in the video below.
In this video we are doing some adjustment in hardware basically Rotations of the scroll wheel can be detected in a variety of different ways. Some mice use potentiometers but able to turn around multiple times. Others use various kinds of rotary switches or optical (rotary) encoders. So make sure to do some research before trying anything extraordinary. Good luck.
 Also Check: How to Remove GRUB Permanently from a Computer
What Is XAPK and How To Install XAPK on Android
I hope you already got the solution for How to Solve Mouse Scroll Wheel Not Working Properly Problem? If not comment box and tell me your problem and what did you tried. We will try to solve it or guide you to solve it. Thank you and keep visiting at We Observed.