In my earlier post, I talked about the Pros and Cons of the Internet on Student the same also gave me idea to come up with beginners Guides about How To Deal With Social Media Addiction. In my last Post, I just went through the cyber Bullying and Procrastination and others are among the disadvantages of Social Media on students around the world.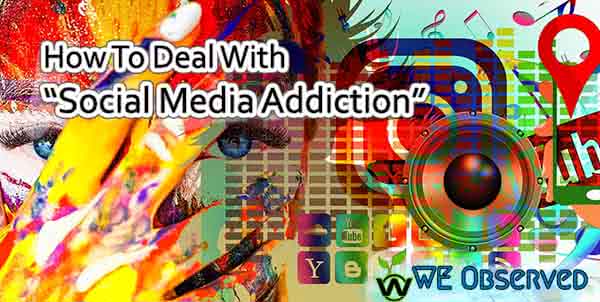 What Is Social Media Addiction?
Social Media addiction can define as a case in which someone can't live without visiting a social media platform.
When an individual is addicted to Social media, they spend hours online, even without doing anything or meaningful.
And in most cases interfere with their day to day activities and cause decrease in productivity and social relating skills.
What are the Common Symptoms of Social Media Addiction?
What are the symptoms of social media addiction? Heavy use of Social media is not just a thing that starts in a day,  we can call it "accumulated habit". 
It all start from when the individual start surfing the Internet, always looking for something to post, using phones even when eating at the dining table or doing some regular tasks and like spending time alone using the phone or Social media.
And if left unchecked they will later become an addiction that will even take a long period to overcome from it. Some of the common symptoms are as below.
Anxiety
No sense of Time
Low Self -Esteem
Isolation
Depression
Anger Towards others in the Physical World
Feeling Upset When You have low likes and Comments
Can't send messages without making use of Chat words
Deleting pictures without many likes
Also Check: Life Saving Tips To Prevent Digital Eye Strain
What Is XAPK and How To Install XAPK on Android
How To Deal With Social Media Addiction?
We can deal with Social media we just need will power and discipline. Just go through all the below points which looks really easy but are really effective.
Turn Off Your Social Media App Notification
I could remember those days when I was addicted to social media but always want to stop. Do you want to know the mistake I was doing at that time?
The mistake is leaving my Notification turn on, You might be thinking It has no effect but I will be frank with you that it takes a disciplined mind to ignore Notifications buzzing every Minutes.
Spend Time With Friends and Family
From observation, those who get addicted to social media are those with little or no friends in the real world. when you take a walk with friends, go to movies, amusement park and visit the Zoo, pressing phone all day will be the last thing on your mind.
Get a New Hobby or improve your Skill
let us assume you have no friends, why not pick up a new hobby to feel in that space? You could learn things you have always had in interest in but can't do because of time.
Spending more time on your new hobby will keep you busy and makes you stop spending hours online doing nothing meaningful.
Make New Friends
Making new friends in the real world will go along way in preventing Social Media Addiction and side effects attached to it. So Just Make new friends and hangout with them and spend some good time.
When you make friends in the real world and make connections with people, in reality, it helps in reducing stalking of ex on social media.
Use Anti Addiction Apps
We have apps that are specifically made to prevent you been addicted to the Internet. They are designed to notify you of your day to day activities and make the decision on their own under certain condition.
E,g AppDetox, Flipd. Moment, OFFTIME and ClearLock
Make Use Of  Social Media Policy
Making a good Social Media policy will go in a long way to curb misuse of Social Media among employees and Students in the classrooms.
You can easily make policy on the specific time when your employees are allowed to make use of their phone / make a rule of no phone pressing during work hours , this will go along way to increase the company productivity.
Conclusion
Social Media addiction is not what start in a day and it can be prevented. My advice is don't get trapped in the Virtual World, most things you see are not real and most seems real due to the power of filters.
Also Check: How to Remove GRUB Permanently from a Computer
How Best Plant-Powered Air Purifiers Cleans Air
So, That's it guys for today goodbye and live positive. Don't forget to share this informative article with your friends.
The article is Written by Olatinwo Dayo and edited By Sourabh Kumar for We Observed