Do You Remember Vivo Nex? That amazing smartphone just changed everything about front facing the camera in the Smartphone. Vivo Nex was the first smartphone having the front facing pop- up camera. And the mechanism was amazing as well as solid. Oppo tried something extraordinary but you know what happened to Oppo find X  at Jerry Rig Everything's Youtube Video. But Now Vivo is again ready for one more smartphone with Pop-UP Camera, Vivo V15 Pro. Recently Vivo V15 Pro Price in India and Specification has been Leaked Online along with teaser images and Amazon listing gives us a shining chance to put everything together here at We Observed.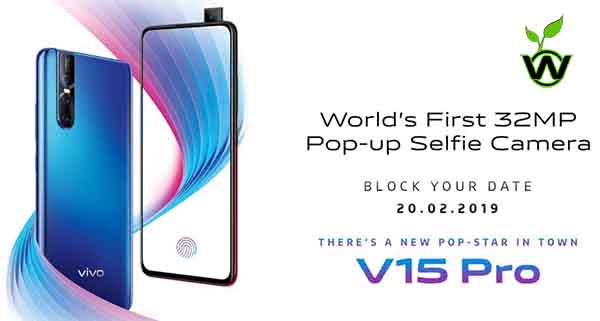 Vivo V15 Pro Page is Online on Amazon.in. So Some of the Leaked Information of this Article has been already Confirmed. And One More Thing the Notify Me button is also active on the same page from today. So Go for It. Now let us first tell you what exactly is the leaked Vivo V15 Pro Price in India.
Vivo V15 Pro Price in India
Vivo V15 Pro Price in India is Expected around Rs. 33,000 with bank offer. It is leaked by Tipster Ishan Agarwal. He has also leaked a set of specifications in the same post. Maybe it will be not 100% correct but the real Vivo V15 Pro Price in India is Expected in Between 32k to 42k range. So just get ready for it. However, The company hasn't revealed the actual price and availability schedule of the phone so we can only wait for something good.
Vivo V15 Pro Specification
Not just the Vivo V15 Pro Price in India but also the specs of this phone also goes online. According to leaked info Vivo V15 Pro Specification the Phone will have a 6.39-inch full-HD+ Super AMOLED Ultra FullView Display panel. The  Vivo V15 Pro will be powered by a Qualcomm Snapdragon 675 SoC. It will have 6GB of RAM and 128GB of onboard storage.
When we talk about cameras, Vivo recently confirmed that the V15 Pro will have with a 32-megapixel pop-up selfie camera, and at the back there will be a triple rear camera setup which includes a 48-megapixel Quad Pixel primary sensor and well supported by an 8-megapixel secondary sensor and a 5-megapixel tertiary sensor. Only the Front facing camera has been confirmed till now.

The Leaked Vivo V15 Pro Specification also indicates that the phone will have a 3,700mAh battery, with "Dual Engine" fast charging technology. The Phone will also have a Fingerprint scanner
After Leaked Vivo V15 Pro Price in India and Specification, let's talk about the launch date.
Vivo V15 Pro Launch Date in India
Without any suspense the Vivo V15 Pro is launching in India on February 20, 2019, so mark your calendar to confirm Vivo V15 Pro Price in India and Specification. By the way, Vivo V15Pro is expected to be Amazon exclusive as we can observe via the early listening.
Also Check: How To Deal With Social Media Addiction? 
What Is XAPK and How To Install XAPK on Android
Now, at last, I just want to warn you that all these details can be rumored one only so just wait for the final launch to get the true Vivo V15 Pro Price in India and Specification. But also we can't ignore all these leaked info because they are linking with each other.
So for now just wait for 20th Feb and we will get all the answers. Maybe we will get it before via some more tweets and leaks. Good Bye now, and keep visiting at We Observed. Also Don't Forget to Like and Subscribe.