Finally Yesterday, The Apple Homepod is Launched in the market.If you did not hear about the Apple Homepod till now let me tell you that Apple HomePod is a Smart Speaker powered by  Siri and developed by Apple Inc.As it is released yesterday and we have reviewed two smart speakers recently so we decided to give a brief review about the Newly launched Apple HomePod so in this post, we will talk about  What is Apple Homepod and is it really worth to you and its own price?
The All New "Apple HomePod"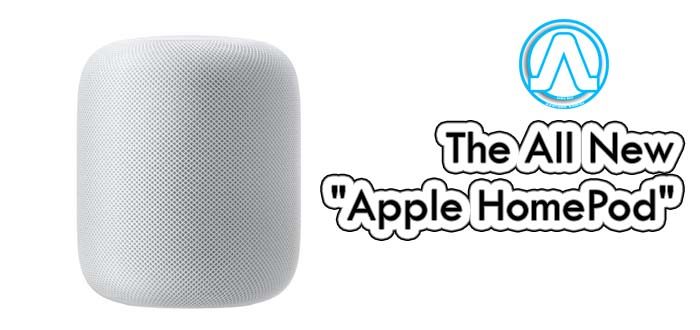 The Apple HomePod is a smart speaker like Amazon Echo and Google Home but it is developed by Apple Inc. It was announced on June 5, 2017, and was originally scheduled for release in December 2017, but was later delayed to early 2018.And it Finally released Yesterday.The Apple HomePod is powered by Siri ( intelligent home assistant) and Apple Music. Siri is an intelligent virtual personal assistant and now it is upgraded to an intelligent virtual home assistant.Apple HomePod powered by Siri is capable of handling everyday tasks and controlling other smart devices in your home.
Design and Hardware of Apple HomePod
Apple HomePod looks beautiful and can be easily placed in a room.Apple HomePod is wrapped in a seamless mesh fabric, Which is designed for both aesthetic and acoustic performance. Apple HomePod is Available in white and space gray colors, Apple Homepod weighs almost 5.5 lb (2.5 kg). Assembled Product Dimensions of Apple Homepod are 6.8 × 5.6 Inches It is a 7-inch tall Curved cylinder Smart Speaker.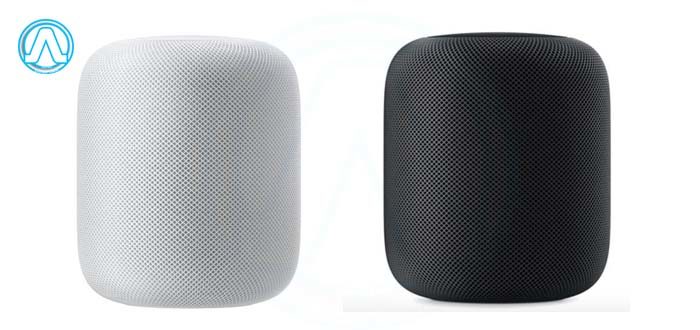 If we talk about the Hardware The  Apple HomePod has 1 GB of RAM and a 272×340 screen resolution.The HomePod runs a variant of iOS as its operating system.The iOS SpringBoard is called SoundBoard in the HomePod firmware.The Homepod is packed with seven beamforming tweeters with own amplifier in its base, four-inch high-excursion woofer towards the top and Six microphones.It Has Apple's A8 chip as its brain.This A8 Chip is considered as the most powerful chip in the Smart Speakers.It is packed with 802.11ac Wi‑Fi with MIMO, and Bluetooth 5.0.
Features of Apple HomePod
Okay, So we have talked about Apple HomePod's Design and hardware now it is the time to reveal all the features of Apple HomePod. You can get the full feature list from their official page but here I am just listing some great features here.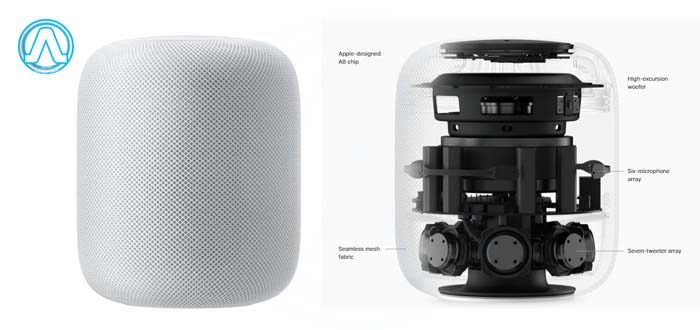 Apple HomePod is the combination of Apple-engineered audio technology and advanced software to deliver the highest-fidelity sound.

Seven beamforming tweeters with their own amplifier.

Four-inch high-excursion woofer which will give you the best sound and best bass experience.

A8 chip powers the real-time modeling of the woofer mechanics,
The beamforming technology so the Six high-quality microphones can hear your voice clearly even over loud music.
low-frequency calibration microphone for automatic bass correction
With the DSP, the Apple HomePod constantly analyses the music playing to dynamically tune the sound to give the better experience. but it is not perfect.
The echo cancellation Technology.
Powered by an intelligent virtual assistant- Siri.
Siri can tell you the latest news, traffic, sports, and weather.
You can Set reminders, Set timers. Convert measurements, Get translations and set tasks with Siri.
With Siri, You can also create lists that anyone can add to.You can Send messages and can do Handoff phone calls.
Siri can control your smart home accessories very well.
The user can access Over 45 million songs with Apple Music.

Audio Sources

Apple Music
iTunes Music Purchases
iCloud Music Library with an Apple Music or iTunes Match subscription
Beats 1 Live Radio
Apple Podcasts

AirPlay other content to HomePod from iPhone, iPad, iPod touch, Apple TV, and Mac.

Wireless

802.11ac Wi‑Fi with MIMO
Direct guest access
Bluetooth 5.0

Responds to your voice. And your touch.
Why Apple HomePod is not perfect?
So HomePod has almost everything for a Music, Apple Products and Speaker lover but still, It is not perfect and we are a little bit disappointed with it? Why? Here are some of the reasons
Apple HomePod is available at the price £319 or $349.00 (₹22413.23). Which was expected, and price increases due to the quality of the product. but it is still very high price. On this price, we can buy 2 Amazon or Google's smart Speaker.
Everything in Apple HomePod is Apple-centric.It has to be more supported to other services.
Siri is Not the best Virtual Assistant.Even it is not the second best Virtual Assistant.
With the DSP, the HomePod constantly analyses the music playing to dynamically tune the sound to give the better experience. but it is not perfect.
It has some great hardware but the sound quality is Not best.
As we described above that it has a feature to send messages, so anyone can send a message with your detail and number because it has some very good voice capturing technology.
Why the hell we need a more expensive iDevice to setup this Smart speaker? We need an iOS device Because you can't set it up without one. Also, the device has to be up to date; 11.2.5 is required to interact with the HomePod.
So after all the heavy doses of technologies, Pros Cons, features and design lets talk about,
How to set up the Apple HomePod?
The process to setup Apple HomePod takes hardly 4-5 minutes. You can order HomePod online Here: Apple Online Store, The main thing is that You will need an iOS device Because you can't set it up without one. Also, that iDevice has to be up to date; 11.2.5 is required to interact with the Apple HomePod. So here is the simple method to Setup the Apple HomePod in your Home.
Place and plug in the HomePod, it will take a few seconds for it to boot up.
 You will see a white pulsing light on the top display, unlock your iPhone or iPad and place it next to the HomePod.
A few second later you'll be prompted to set up the HomePod on your iDevice.
Now follow the rest of the prompts. First up is assigning your HomePod to a room.
Then you'll be asked if you want to use Personal Requests. Choose the suitable option (

You can always go back and turn this feature on or off later)

Now You will be asked that if you want to use your iCloud account to sync settings like Wi-Fi networks to the HomePod.
That's it. Your Apple HomePod is ready to talk with you and to do all the lovely stuff for you just by your voice.
Conclusion:
Apple HomePod is only worth to you and its own price if you don't care about the price and Other services which are not available on the Apple HomePod. As I said it is not perfect Smart Speaker and it needs some improvement but still it is promising and better than some other Smart Speakers. It has some great and top notch hardware like the woofer, Amplifiers and A8 Chip which give a good experience and it will fill your room with music. It has great sets of tweeters and Microphone so that Siri can hear you clearly even over loud music.
If we talk about the Personal virtual assistant SIRI, Siri is not our (especially mine) first choice it has some problem people know about them very well. But Yes, it is better than Amazon Alexa because it understands simple commands and questions with better accuracy. It also responses faster which is quite good and impressive for me. But still, it is Apple Centric product we cant think after them by using this Smart Speaker and I hate some of them due to some previous experience.
Apple HomePod is Beautiful, powerful and very responsive it has some great features and better technology but maybe we are expecting more, something special, something new at this higher price.