Oppo A7 is the upcoming smartphone. The Phone is expected to be available in China on 13th November. Before any Official announcement the Oppo A7 Specification, as well as Price leaked recently. The specification is almost similar to the Realme 2. There is a difference in Size of the phone which feels like "Either some extra ingredient are added, or the company could not fit everything in that same size". Whatever it is, We will find out soon. For Lets focus on Oppo A7 Price in India and Specification.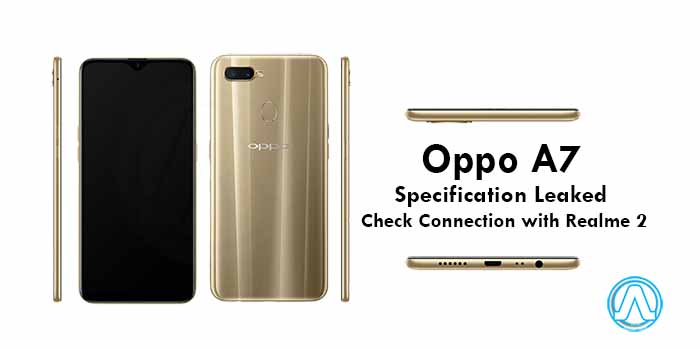 Fun Fact: Realme 2 Price is 8.9K- 10.9 K INR and Realme 2 Pro Price is 14k-16k INR in India, Today, So For almost same specification why would anyone will waste extra 5 to 7K? Why Companies couldn't think like us.
Oppo A7 Specification
According to leaked Oppo A7 Specification the phone will have 6.2-inch HD+ (720 x 1520) IPS panel with a waterdrop notch. The display seems nice but it is same as Realme 2. The Phone will be powered by Octa-core 1.8 GHz Cortex-A53 Snapdragon 450 chipset and Adreno 506 GPU. It is expected to be paired with 4GB of RAM and 64GB of memory. Now if the company will update something the RAM and ROM will be the easiest thing so keep ready for any variation.
The leaked Oppo A7 Specification also indicates that the phone will have dual Camera setup on the back. The Rear Camera setup will be the combination of 13MP+2MP Camera Sensor. At the front side, There is a 16MP front facing camera perfectly fits in the waterdrop notch. The Oppo A7 will run on Android 8.1 with custem UI.
The Phone will get poer from a Non-removable 4230mAh battery. The Phone measures 155.9×75.4×8.1mm (Realme 2=156.2 x 75.6 x 8.2 mm), and weights around 158g. Oppo A7 render image shows Gold Color varient. Now after Oppo A7 Specification Lets move to the Oppo A7 Price in India.
Oppo A7 Price in India and Launch Date
According to leaked report the Oppo A7 Price will be 1599YUAN (230.29 USD) in China Market and it will be Launched on 13th November. There are no details available about the shipment. Now After  a quick conversion Oppo A7 Price in India will be 16,839.76 Indian Rupees. Similarly Oppo A7 Price in Pakistan will be around 30,745.66 Pakistani Rupee. and Oppo A7 Price in Bangladesh will be around 19,302.68 Bangladeshi Taka.
Oppo A7 launch date is not confirmed yet also the Oppo A7 Price in India and all above countries are not 100% Confirmed yet. We have to wait for the final launch.
You May Also Like: OnePlus 6T Performance Report Out Now: All Detail and specification
HTC Exodus 1 Blockchain Phone With Zion Cryptocurrency Wallet
Source: Slashleak
On the basis of the leaks, one thing is sure that Re-branding smartphone with same specification is not good, If the Oppo does this for too long their reputation (if Any) will be harmed. other thing is that "The mind gets bored by eating the same ingredient repeatedly". If it is same that it is not good but if company does some serious up gradation than, at least we can think about once.