In this modern and technologically friendly age, we love to do all our work with the help of gadgets, whether we want shopping, book a cab, reading news or books, booking tickets, Or making any app, Coding, etc.But in doing all these functions, we keep watching the mobile or computer screens most of the time.For a long time and continuously stunting the screen of the computer and mobile, our eyes and body are stressed, which leads to a very serious Problem " Digital eye strain ". " Digital eye strain "isn't one specific problem. Instead, it includes a whole range of eye strain and pain problems.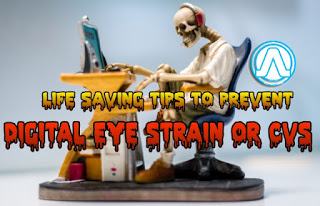 Everything About Digital eye strain or Computer vision syndrome
Digital Eye strain's symptoms:
Dry or irritable eyes
Pain in Eyes
Blurred vision
eye fatigue
head, neck and back pain
Above all are eye strain symptoms and If you've ever experienced any of the above problems after using a computer or smartphone, then maybe you are suffering from Digital eye strain. Stare at computer screens for a long time continuously can put a real Eye strain and eye fatigue on your eyes.
Factors and facts of Digital eye strain: –
All the display of smartphone, Mobiles, Cellphones, Monitors, and laptops emit HEV light. HEV light is also called as Blue light. HEV light is that portion of the visible light spectrum that comprises light with the shortest wavelengths, which carry the greatest potential to damage living tissue.staring at the phone, laptop and tablet screens may actually harm our eyes permanently.
We blink about a third less than we normally do when we stare at our smartphone or laptop screens, which starves our poor peepers of protective tears.
According to Dr. Heiting:-."The amount of HEV light exposure a person receives depends on many factors, like screen technology, distance from the screen to the user, screen size, screen brightness, and duration of use."
Many digital eye strain reports of Previous Two Years( I especially want to consider digital eye strain report 2016 or digital eye strain statistics of 2016 in both Reports) says that two out of every three teens are facing any of the Symptoms from digital Eye strain Symptoms.
It is not cleared that these problems of digital eye strain having any long-term effects or not.
It is also stated that most of the teen ignore these symptoms and problems and don't take proper Digital eye strain treatments.
Last year when the Samsung galaxy s7 was launched it was having a very bright display which is built with the latest technology, after some time users who bought Samsung galaxy s7 started searching for some terms like -blue light filter Samsung s7, blue light filter s7, blue light filter s7 edge, Samsung galaxy s7 blue light filter.
And interesting thing is that Galaxy S8's display will be brighter than Galaxy s7.
You May Also Like:- Best Upcoming and Flagship Smartphones of 2017
How to Protect Your Computer against Internet Bot
So Until now, in this post, we have explained about what is Digital eye strain, Eye strain symptoms, and factors of Digital eye strain.And now we are providing some valuable tips to prevent Digital eye strain.So here is the main part of this post which is:
 How to Easily Prevent Digital eye strain
As you might have understood from above paragraphs that Digital eye strain occurs due to long-term contact with HEV Light or Blue Light which emit from Display.So If you want to reduce Eye Strain and eye fatigue then you must have to follow all the below tips, Exercises, and other points.These tips are based on some good research and health blog.You have to change some habits and do some changes and after following all the below tips you can reduce the Eye Strain problem. You can also use the blue light filter and reducer apps for gadgets and panels for the computer.
Tips to Easily prevent Digital eye strain
Keep the screen as far away from your eyes as comfortably possible. Greater Distance- Lesser eye strain.
Adjust your Display brightness. But Remember one thing that too bright or too dark stresses your eyes out and can cause problems maintaining focus.
Adjust your Phone or Display's text size and contrast. It makes things a little bit easier for our eyes to read web content and everything on your phone.
Avoid using Your Phone or laptop in the pitch black dark squinting because It can lead to insomnia and less sex.
Easy Exercises to Prevent Digital eye Strain
Blinking often, It keeps your eyes moist and reduces dryness and irritation. Blinking often helps refocus your eyes. So it is the easiest and beneficial eye exercise against Digital Eye Strain.
After Every 20 minutes of regular Use/ work, take a 20 to 30-seconds break and look off into the distance of around 80 to 100 feets.
Avoid using mobile for two hours before sleeping, and two hours after waking up.
You May Also Like:- Top 12 Cool Tricks Where a Pen Drive can be Used
Is UC Browser Really Safe? Risks and Solution
Best blue light filter apps for Android, iPhone, and Computers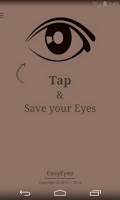 If your Device screen is too bright even after adjusting the brightness to lowest and If you want to give your phone a warm look instead of that eye-strainingblue gaze you see at night. than EasyEyes is the solution. EasyEyes is Inspired by Flux for the PC.It will change your device's color temperature and creates a screen filter to reduce eye strain when looking at your device at night. Looking at a natural but low light source gives your body a chance to produce more melatonin, helping to provide you with better sleep and will reduce the risk of Digital eye strain.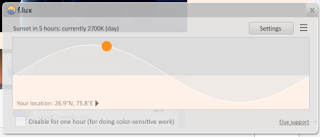 The tiny app f.lux will make the color of your computer's display adapt to the exact time of day, warm at night and like sunlight during the day. it will make you sleep better, or you could just use it just because it makes your computer look better.f.lux makes your computer screen look like the room you're in, all the time.Just Tell f.lux what kind of lighting you have, and where you live. Then forget about it. f.lux will do the rest, automatically.It is also Best blue light filter for laptops because it eats less memory and battery.It is available for Mac OS X, Windows, Linux, Jailbroken iPhones/iPads, and Android devices.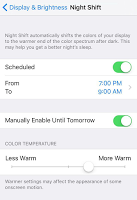 Night Shift – blue light filter app for iPhone, iPad, and iOS
Night Shift is a new tool for iOS and it aims to cut down on eye strain and sleeplessness you might get when you're using your iPhone or iPad in the night.To turn on Night Shift, Just launch the Settings app >  then select Display & Brightness > Select Night Shift to see all of your options.
Addition tips to Prevent Digital eye strain
Check mobile radiation or SAR Value of the gadget by dialing a USSD code*#07#, if results show SAR below 1.6 watts per kilogram (1.6 W/kg) then it is OK otherwise you are advised to change your smartphone immediately.
Use glasses that block blue light and Minimize glare.
Make sure your eyeglass lenses (if you use them) have an anti-reflective (AR) coating. Eliminating reflections from your lenses can increase viewing comfort and reduce eye strain.
If You have a smartphone equipped with anti-glare Corning Gorilla Glass than it is ok and it will reduce Eye strain risks. if not, then use a matte screen protector film.
Avoid using mobile for two hours before sleeping, and two hours after waking up.
Always Use Filter and dimmers apps, computer screen dimmer, Android Blue light filter app, and blue light filter app for iPhone. Good thing is that we have already researched in this matter and found some good blue light filter or dimmer apps.and listed all of them in the next point.
Use " computer screen protector for eyes" Panel with Monitor display.
You can also search Terms like glasses to protect eyes from computer screen, the best blue light blocking glasses on Online Stores and use them.
You May Also Like:-
Is UC Browser Really Safe? Risks and Solution
Sell Old Phones for Cash on these Online Places
That's all As you know
We Observed
is a tech Blog where we post Articles about Technology, Smartphones and other cool things that can be done by or with Smartphones but this post is special because it shows us a negative side/ effect of smartphones. this post shows us that health is also equally important to do works and fulfill all our dreams.This post is a result of our last four day's research and hard work. In this Article, we have talked about
Digital Eye strain or computer vision syndrome, Eye Strain symptoms, Factors that are responsible for Digital eye strain and also How to prevent Digital Eye strain
.Just follow all the tips and exercises and these will help you to prevent Digital Eye strain very easily.At last, I want to say that don't ignore your health for work and other cool stuff.If you face any of the problem or Eye strain symptoms after a regular use of computers and phones than immediately consult with Doctors and follow their guidance.If you like our post or found something Informative and helpful share with your friends.And don't forget to keep visiting.