iPhone 2018 & iPad Pro 2018 both are expected to be released in the last quarter of 2018. Usually, the Apple's flagship models being released in the same time period in recent years. As you know only a few months remaining for the time period, and hence rumored details are coming out day by day for iPhone 2018 & iPad Pro 2018. That's why we have prepared this post to collect all the known, Rumored, leaked information and also upcoming updates about these devices.
iPhone 2018 & iPad Pro 2018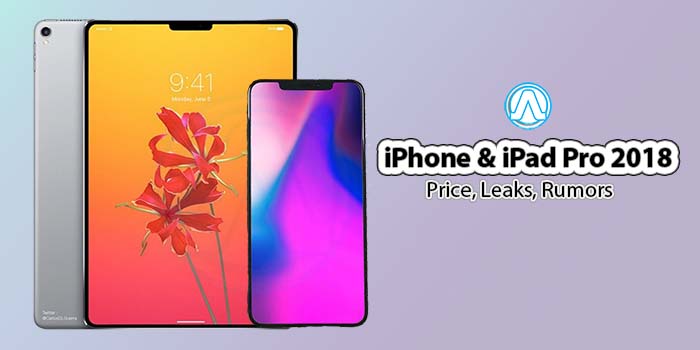 Recently the glass panel for iPhone 2018 has been leaked and now a report comes out from a Japanese website Macotakara, and it gives some good and bad news. So in this article, we are collecting all the Details, rumored details, leaks about the upcoming flagship iPhone 2018 & iPad Pro 2018.
iPhone 2018 Price, leaked and rumored Details
Some Images by  Tipster Ben Geskin on twitter the images have been popped up in last week, and according to them, There are 3 iPhone 2018 Models, these new models are rumored to having screen size 5.8-inch, 6.1-inch, and 6.5-inch respectively. These also highlight the presence of a display notch of the new models.
Latest leaked image of iPhone 2018 stated that the iPhone 11 (2018) 6.1-inch model will be LCD iPhone model and other two will be OLED Models. It also stated the iPhone 2018 6.1 inch model will have thicker bezels against the two OLED models. The reason behind that the LCD panels are not technically advanced as OLED panels, and they require some black space across their four sides to produce images. – NDTV Gadgets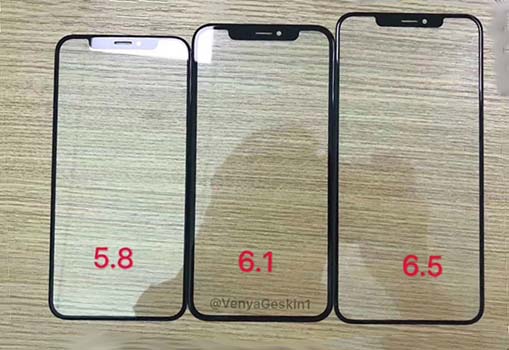 The iPhone 2018 6.1-inch model is already rumored to have an as cheap price as $600-700. Which indicates that the iPhone 2018 Price in India could be in between Rs. 41,000 and Rs. 50,000. This is really a Wow thing. But we also can get surprised by Apple. We are used to it. Especially from last year's iPhone X ($1000).
You May Also Like:- How to Get Invoice from Snapdeal: 3 Methods
How to Delete Yourself from all Social Platforms
Now iPhone 2018 or iPhone 11 will look similar to the iPhone X from the front. Some previous reports have already claimed that Apple is in talks with LG to deploy its MLCD+ panel on the upcoming 6.1-inch iPhone model which is the same display panel used in LG G7 ThinQ. That's how iPhone managed to reduce the iPhone 2018 price from $1000 to $600-$700.
Some Previous reports have already claimed that the iPhone 2018 (11) will come with 18W fast charging-supported USB-C accessories and dual camera setup.
Now If we talk about iOS on this phone so at WWDC 2018 last month, TimCook and their team already released iOS 12. So No Guessing Game here. The iPhone (11) 2018 will run iOS 12 out of the box.
IPad Pro 2018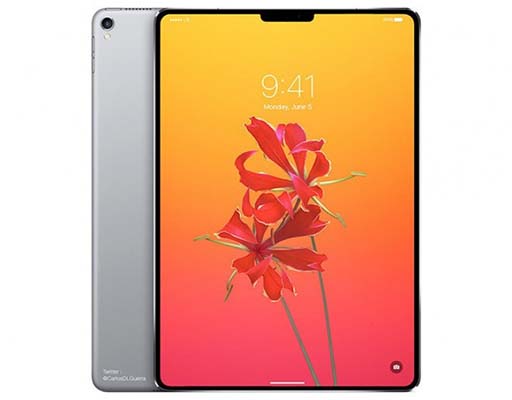 There are not many details about the iPad Pro 2018 Tablet, but some experts believe that the iPad Pro 2018 will be equipped with the face recognition tech me as the iPhone X's advanced face recognition technology.
According to Macotakara,  iPad 2018's both variants will come with reduced dimensions overall.
The iPad 2018 10.5-inch model's dimension will be changed from 250.6 x 174.1 x 6.1mm to 247.5 x 178.7 x 6mm.
 iPad 2018 12.9-inch model's dimension will be changed from 305.7 x 220.6 x 6.9mm  to 280 x 215 x 6.4.
Next big and bad change is that Maybe it will also don't have the headphone jack. Even the Lightning-to-3.5mm audio jack adapter will be also not included in the box.
Some reports and images also claiming that the Smart Connectors to the lower rear side of the devices. So now you have to dock it in only portrait mode instead of landscape mode.
Also Check: Honor Play Special Edition with an Awesome Laser Engraved Back
Samsung Galaxy Tab S4 Specs, Launch date, Price
That's it, iPhone 2018 & iPad Pro 2018 Upcoming Devices, not much details are available but these details will give yo some hint that how the phone will look and What are the changes in them. We have to wait for the final and official announcement or some more leaks.