Updated on 22nd July 2018: Hello, Friends, I am back with another Smartphone Tutorial and this time it is all about Unbricking An Android MTK Based Smartphone. From my personal experience, I do experiments with my Android Smartphone, like Changing ROMs, Flashing, Modifying things and scripts etc. Sometimes I succeed some time I failed. Successful modification forces me to try more and failed attempts give me bricked Android Phone. Actually No, Failed Attempt also forces me to Repair that Android phone, which got bricked. Most of the time I Unbricked my Android Phone on the same day but in some cases, it takes a week. So after my almost 6 years of experience in/ on Android, I am here with all the known methods to Unbrick Android MTK Smartphone. To make this Article Easily Understandable I have divided this Article into Four Part as Following.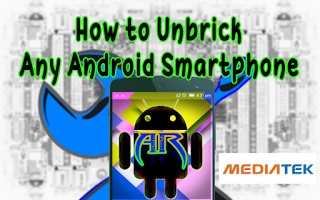 Recognize Phone is an MTK Device or Not
This Post is Only For MTK Smartphone, and it will not useful for other Android Smartphones. So let's start with Recognizing That Your Android Smartphone is an MTK Device or Not. If Yes then You are in right place and here I will try to explain all possible methods and steps that can help you to Unbrick your bricked Smartphone.
What Is MTK ?
MTK stands for MediaTek, and MediaTek is a well-known chip manufacturing company(Taiwan). MTK phones or MTK Devices are Those Phones and Devices which use MTK chips.
What is Kernel?
The kernel is what allows your phones software to interact with the hardware. It contains all the necessary info for boot, and also your phone's drivers. There's a line in the kernel called "bootclasspath", and if this isn't what it should be for your device, you will get a hard brick, as this line tells your phone how to boot.
Methods to Know that Your Android Smartphone is an MTK Device or Not?
Now if you really want to know that whether your android devices are MTK devices or not, then there are two very common Methods:-
With a tinny Android App:-
Open the Google Play Store.
Search "CPU-Z" in it and Download it.
When the Application is Installed, Open the app and you will see all your phones and hardware components models.
On the Main Screen, you will see about 5 menu buttons at the top Click on SOC (System on Chips)
On the SOC menu, you will see the chip and model of your device boldly written at the top portion of your screen.
Method 2 is very simple and it is the only way to know that Your phone is MTK Device or not when your phone is Bricked on not Accessible. In this method, you just have to type Smartphone's Brand name and Model number on the Google Search Bar and click on the search button. By using this method you will get all of the information about your Smartphone Easily.
You May Also like::- How To Fix App That isn't Working In Android
Now, After Using Above method, You will easily know about Your Device. Now if your Phone is an MTK Device then you can Move on, But carefully.
Now After Recognizing the Device Lets Move to The Second Part Of the Article which is:-
Basic Information about "Android Brick"
There are two types of Smartphone Brick First one is Soft Brick and Second One Is Hard Brick.Both are explained Below one by one.
Android soft brick
A Soft Brick or a Software Brick, is usually just when you're phone is stuck in a boot loop, and as the name implies, is caused by a software error, usually the lack of a system to boot from or some other minor software bug that glitching boot. They are easily fixable by flashing the stock rom through recovery or with SP Flash Toot. If your Android device turns to a soft-brick, it may:
Keeps Rebooting;
Boots Straight Into Recovery;
Boots Straight Into its Bootloader;
Freeze at the startup screen or boot Animation;
Android Hard brick
A Hard Brick or a Hardware Brick is where you're device won't boot at all, It Means No Recovery or Bootloader, No Startup, No Vibration, No Battery Indication and the Notification led will also not work in it.These are usually caused by people flashing ROMs or kernels not meant for their device. Flashing a ROM not meant for your device, can throw your system through a loop, because it also flashes the kernel. You have to either repair it yourself, using a JTAG or send it into a JTAG service to have it fixed.
In Short:-

Soft Brick = Recoverable without professional repair.

Hard Brick = Not recoverable, Almost Dead.
Now, After reading All the Above Information and Details I Hope you can easily Recognize that Your Phone is Soft Bricked or Hard Bricked. So now let's move to the Next Part which is:-
Common Methods to Unbrick MTK Android SmartPhone
There are Some common Methods/tricks you can try to get your Smartphone back on track.
Go to recovery mode (press volume plus + home screen button + power button does it.)
Use volume keys to navigate the menus, and the power button to select the menu items. And perform the following Tasks. You may found some of the below options by clicking on "Advanced" in Recovery Mode.
Wiping User data, then re-flashing a custom ROM through Recovery mode.
Wiping Cache and Dalvik Cache through Recovery Mode
Disabling Xposed mods through recovery Mode (if Using).
Restoring a Nandroid backup through Recovery Mode.
Flashing a factory image Using SP Flash Tool. You can Use Our Tutorial: – How to Manually Upgrade or Flash Your Android Smartphone

Advanced Methods to Unbrick Android MTK Smartphone
Now there are some advance  Methods which you will have to Perform when everything above fails and you don't know what to do. Again I am Dividing all the methods into 3 Categories as follows:-
Unbrick Android MTK Smartphone With Flash Tools ( Almost all MTK Phone Supported ) 
Unbrick Android MTK Smartphone With Unbricking Tool.
Unbrick Android MTK Smartphone JTAG and Manufacture service Center
These Methods are Very Risky. And I will suggest you Not to try any of the following when your phone is in working condition. But If Your phone is Hard Bricked then try One by one. According to the Device type and Brand.
1. Unbrick Android MTK Smartphone With Flash Tools
A) Unbrick Android MTK Smartphone using SP Flash Tools 
SP FLASH Tool is an Android-based flashing software.SP Flash tool can modify the overall system of your Android device. It is used to Flash, manually update, formate and backup operations for most of the android devices. This is also used to Unbrick Android MTK Smartphone.
*Never use Formate Option it will delete everything, Everything means Everything system data, partition data etc and your phone will be hard bricked.so never use format option if it is not necessary.
Your Smartphone must be >70% charged.
 A windows PC/lappy with USB VCOM driver installed.You can download the USB VCOM driver for all MTK device from HERE or HERE or you can search and download from google.
DownloadSP FLASH Tool from HERE
Download flash files for your Android Smart Phone from GSM FORUM or NEEDROM(you can also donate these very helpful sites for there hard work, all details are given on their page)
Winrar to extract all downloaded files.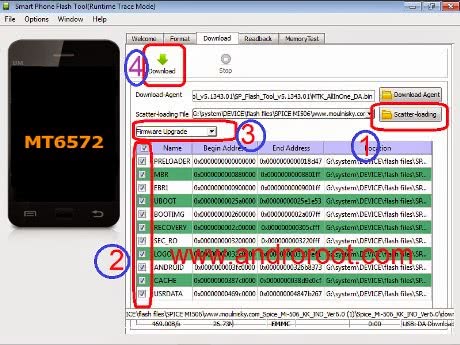 Make a complete backup of your data and system.
Download The Stock Rom.
Then Follow the Process which is well explained here How to Manually Upgrade or Flash Your Android Smartphone.
After Downloading Extract it.
Open SP Flash Tool.
Load Scatter File.
Click on Download.
Your phone will be successfully flashed.
I know it is Very short and looks very simple but it's Not.I don't want to do copy-paste in this type of articles so To Know More about this method and The Complete Step-by-step Tutorial You have To visit How to Manually Upgrade or Flash Your Android Smartphone.
Tips & Tricks:-
Untick Userdata if this message appears  "Error 8038! Android download pmt is ready and layout has been changed".
Use Advanced Mode if Nand Flash Formation Failed or Tools Failed To write on it.
If you are getting any error then visit List of SP Flash Tool errors, their meanings and how to solve them.
B) Unbrick Android using Odin ( For Samsung)
Odin is a utility software developed and used internally by Samsung which can be used to flash a Custom Recovery firmware image (as opposed to the Stock recovery firmware image) to a Samsung Android device. It is also used as a way of unbricking an Android device.
Download Odin to brick your Android phone or tablet even it is stuck in recovery mode. First please download Odin and recovery.tar file on your computer.
Run Odin using an administrator account on your Windows PC.
Switch off your device, go to download mode (volume plus + home screen button + power button ), then press volume up to continue and connect to your PC
When Odin recognizes your device, click PDA option and navigate to the recovery.tar file where you have downloaded it
Select recovery file and hit START
The flashing process will complete and Odin will show a PASS button with green background, your device will be rebooted.
To Know More Check the Article Here: How to Manually Upgrade or Flash Samsung Smartphone
2. Unbrick Android MTK Smartphone with One Click Unbrick tool (For All)
We will use a software to unbrick the Bricked android device. This tool is really very efficient.
Just Follow the step by step procedure to use One Click Unbrick Tool and unbrick your android device.
if Java is not already installed on your PC, Go to the Official Website and download Java for your PC to make the software work.
Download One Click Unbrick Tool for android .
Now extract these files..
Now you will get a 'OneClick' folder.
Now copy 'OneClick.jar' file and paste it into the 'OneClickheimdalloneclickresourcesHeimdallPackage' folder.' folder.
Right-click on 'oneclickloader.exe' file and choose 'Run as Administrator'.
Proceed with the installation of Heimdall.
After the installation is complete, you will see the the One-Click UnBrick interface.
Now you can connect your device to your PC and then click on the unsoft brick button to continue the process.
3. Unbrick Android MTK Smartphone : JTAG and Manufacture service Center
A. Basic Procedure to Use JTAG to Unbrick Android MTK Smartphone (Only For Hard Brick)
JTAG :-
Now At the Last of this Article Let me Explain You about JTAG,
From Wikipedia:-
The Joint Test Action Group (JTAG) is an electronics industry association formed in 1985 for developing a method of verifying designs and testing printed circuit boards after manufacture. In 1990 the Institute of Electrical and Electronics Engineers codified the results of the effort in IEEE Standard 1149.1-1990, entitled Standard Test Access Port and Boundary-Scan Architecture.
JTAG implements standards for on-chip instrumentation in electronic design automation (EDA) as a complementary tool to digital simulation. It specifies the use of a dedicated debug port implementing a serial communications interface for low-overhead access without requiring direct external access to the system address and data buses. The interface connects to an on-chip test access port (TAP) that implements a stateful protocol to access a set of test registers that present chip logic levels and device capabilities of various parts.
JTAG is a Protocol ! Simply in other Protocols such as USB is protocol UART is protocol for transferring DATA or communicating with devices .
JTAG Directly communicate with the CPU and with the help of CPU's JTAG Protocol you can access CPU's peripherals and memory/NAND/eMMC one of this peripherals .
In order to relate directly answer to your question for the reviving part . Even Though your device is not able to boot-up from the internal memory/NAND/eMMC JTAG access still available through JTAG Protocol .
Accessing JTAG and re-writing Boot partitions to your device internal Memory/NAND/eMMC will revive your phone , phone will be able to boot-up and will be revived .
JTAG pins exist either under your device's battery or near its SIM / MicroSD card holder. The pins are hidden. You may have to dismantle your phone's back cover. The JTAG pins are usually six gold pins clustered close to each other,You use a special hardware JTAG box which comes with a vast array of cables (different cables for different types of devices), plus specialized software specifically made for your device model. (There exist generic catch-all JTAG boxes that can be loaded with specific microcode instructions for your particular manufactured board. The tricky part is getting the exact microcode for your device's circuit board. If you use the wrong microcode, it can cause permanent damage.)The microcode instructions are emitted by the JTAG box attached to the cable, clipped in position on top of the JTAG pins. The box sends a signal to your device to revive it. Now an appropriate firmware image can be flashed to your device.You have to find which pins are used for ground (GND), transmit (TX), receive (RX) and power (PWR). The power is the important one. if the battery is dead, power can still be fed into your device.You can buy JTAG boxes online, but they tend to cost a couple hundred US dollars or so. It's because of differing manufacturers with different types of cables, and different arrangements of on-device JTAG pins.With JTAG You can Unbrick Any Android Smartphone and it is also having very good success rate.
B. Go contact the manufacturer for service
If all method mentioned above fails, take it to the service center to Unbrick Android MTK Smartphone. They can simply flash the stock things back and hand it over to you even without a root checking. Please make sure you can keep your data on the device.
Also Read:- Huawei Nova 3 and Nova 3i coming to India on July 26
Xiaomi Mi A2 Lite Price and Specification Revealed
Conclusion:-
In this Article/Tutorial about Unbrick Android MTK Smartphone. I have explained all the terms and methods which are used by People or the Repairing Shops. I hope This Tutorial/Article Will Help You To Unbrick Android MTK Smartphone basically Mediatek Based Devices. This Article is for Education Purpose only and Above methods are working, having good success and all of them are Too Risky, Do/Perform it on your own risk we are not responsible for any damage or brick. Make Sure -"Never ever flash anything that is not meant for your device. If you have any doubt and question then you can post a comment under this article. Posting a question is better than bricking your device, right?