Some Paste Operation failed Reason and Solution
Hello friends! We are Back again, And this time on Updated and upgraded version of Ando Root.Today, In this post we are going to show you All the methods with step by step tutorial to solve " Some paste operation Failed " Error of your Android Smartphone. Actually, The Error is not an error, but it is a protection setting of Android OS and Smartphone Which not allow the user to write/ paste files and folder in storage or any specified location. I personally faced this problem when I tried to paste files in /sdcard0/Android/Obb, but I solved this problem using some tips which are available on XDA Developers website.This Error also is known as Copy paste failed error in Android.Now in this post, we will talk about:
Why are getting "Some paste operation Failed" Error?
Why do we want to Fix/Solve "Some paste operation Failed" Error when it is beneficial?
Some Tips to Overcome This  "Some paste operation Failed" Error
Why are getting "Some paste operation Failed" Error?
By now you have understood well that it is not an error it is a protection of OS, But let me explain the reasons of this protection.This is a Tech savvy world where the even small child knows how to use smartphones and in this same Tech Savvy world, most of the users know the tricks to find and use Pirated software. If you are a regular internet Surfer, I am sure that you have heard or read anywhere that Google is increasing its security day by day, and the Same thing They are trying to do with the Android OS.They are regularly including security patches for Android OS in updates.This series started with Android KitKat. And KitKat is the first Android version which was affected by this powerful protection.KitKat users and third-party apps are not allowed to do extraordinary tasks in the system, sd card, and some other location.
There are 6 Possible reasons for this Some paste operation failed error as follows.
A Factory Reset Operation is Remaining.
it's caused by a bug within the Chrome APK.
If the System is locked for the user then the user can't use pirated apps and games because some of the game's data file has to be manually stored in the Android/Obb folder. So if Copy and Paste operation failed in this folder then people have to buy these apps officially from the play store.
This restriction can protect the system from any modifications.
This restriction will protect the system from any third-party access through apps.
in some worst cases, of this "Some paste operation Failed" Error it also not allow the user to paste anything on a storage. Example:- On KitKat people can't paste anything on SD Card.
Why do we want to solve "Some paste operation Failed" Error when it is beneficial?
Straight and Forward Answer of this question will be:- Because we are the owner of the smartphone. We have bought it by paying a very heavy Amount. And we want complete access to it.Why anyone else will control the permission and copy-paste operations.
I hope that you can understand the pain of the user who is not able to paste some documents and music file in the storage. Or the pain of a smartphone gamer who downloaded a game's big data and after downloading it, he is not able to paste the file in Obb folder. Yes, I know this pain is nothing in front of iPhone user, But still it can be consider as a pain.
You May Also like:- Is UC Browser Really Safe? Risks and Solution
Top 12 Cool Tricks Where a Pen Drive can be Used
Now after all these homers lines I hope everything is clear to you. and now we are moving to the main part of this post which is: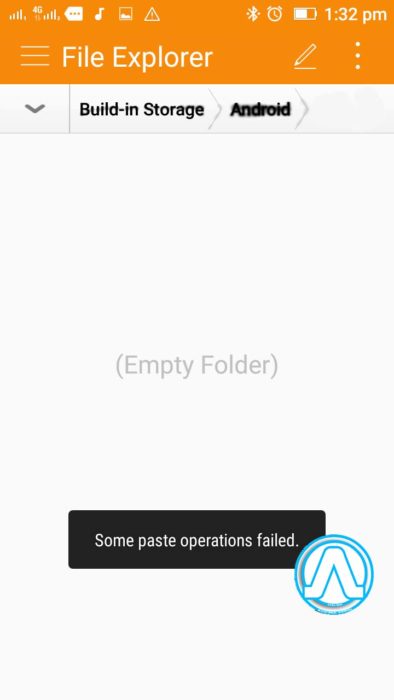 How To Solve "Some paste operation failed" Error:-
There are Many methods available but which one will work for you is not fixed it depends on the Security type of the OS. so to solve this copy-paste operation failed or some paste operation failed error you have to try all of them one by one.
Method 1:-
Success Rate:- 90%+
Data loss.
Steps:-
Take a back of your data and system through the Recovery or manually.
Boot into Recovery mode and perform the Factory Reset, or go to Settings -> Accounts -> Backup and reset -> Factory data reset
Method 2:-
Affective, if there is Clipboard folder exist in Your /Data folder.
No data Loss but you will Void Phone's Warranty.
Steps:-
Take a back of your data and system through the Recovery or manually.
Install Any Root Explorer app.
Launch it and go to  /data/clipboard.
Select ALL and delete all.
Then go into your Settings > Applications Manager > All.
Look for TestServices, than remove updates/clear data.
Reboot and everything should be fine.
Method 3:-
Helpful, If you can access Clipboard and clear button.
No Root Required.
Steps:-
Start the dialer app.
If you don't have a dialer, Open S-Memo or any Notes app.
Long-press in the area above the numeric keypad in dial pad, and anywhere in text editors like S-Memo or any notes/ Notepad app.
Where the numbers normally show. Choose Clipboard,
Then Clear.
Then Reboot.
Method 4:-
Helpful when you are getting the " Some Paste operation failed" or "Copy-Paste Failed" in ES file Explorer on Mi Phones.
Steps:-
Launch ES File Explorer,
Open 

settings

, then navigate to "Installed Apps"
In "Installed Apps", find "

Documents

" and tap "Enable"
After enabling "documents", go back to ES File Explorer
When the prompt appears again, tap menu and select the root of the SD Card
Method 5:-
If Everything Failed Use PC for Copy- Paste Operations of Android Smartphone. But steps will be diffrent.
Let me assume that i want to paste a folder "xyz" at Location /sdcard0/Android/Obb/ then i will do this by:
Steps:-
Connect Smartphone with PC using USB Data Cable.
Create a Folder "xy" or any other name and paste all files and folders in it.
Now Copy this folder "xy" at location:- /sdcard0/Android/
Rename the Folder"xy" (or the folder you created in step 2 ) to "xyz"
Disconnect.
Source:-
That's it, Guys. I hope our Article and Research will definitely help to overcome "Some Paste Operation failed" Error.In My case I opted for Method 5 for a temporary solution and Method 2 for the permanent solution because restoring a device is really painful and timewasting work and I wanted to root anyways.But you have to try all of them one by one Unless the problem is solved. If You like our Post please share with your friends and if you have any query please use the comment section.