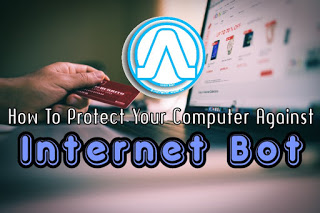 Virus, Malware, Spyware, Ransomware and now Internet Bot
Day by Day risk on our privacy and digital data is increasing rapidly.This Chain of internet attacks started with viruses then Malware then Spyware then Ransomware and now Internet bots.Internet bots are not very new. Actually, they are developed parallel to the internet.So Internet Bots are as old as the internet is.But in recent year internet bots are used to harm computers and the internet also to steal personal and private information of the user and to take control over machines.There are Two types of Bots, Good bots, and Bad bots.Good Bots does their pre- fixed tasks like accessing robot.txt from the website or crawling but bad bots do all the bad tasks.To Keep Our data safe, we have to know about them and protect our computer, and today in this post we are explaining How to Protect Your Computer against Internet Bots.
What is an Internet Bot and why it is Harmful to Computers?
Internet Bot is actually a robot but not the kind found on the production line in a manufacturing company.An "internet bot" also known as web robot. WWW robot or a bot is a type of malware or worms or Trojans, that runs automated tasks (scripts) over the Internet and allows an attacker or hacker to sneak onto a person's computer or to take control over an affected computer.Many people refer to these victim machines as "zombies".Bots are usually part of "botnet" which is a network of infected machines that stretch across the globe.Bots are one of the most dangerous and popular types of cybercrime today. Bots operate as part of a powerful "botnet" to spread viruses, other malware, generate some type of spam, and commit online crime and fraud.
How does an Internet Bot work?
Bots do not work alone, they spread themselves across the Internet by searching for vulnerable, unprotected computers.They quickly infect an exposed computer or machine and then report back to their master.Then they stay hidden until they are awoken by their master to perform a task.Bot infects a machine and then another through being downloaded by a Trojan or uploading themselves on the complete network or installed by a malicious Web site or being emailed directly to a person from an already infected machine and they do these dangerous things very Quietly.
What can an Internet Bot Do?
Since an internet bot-infected computer does the bidding and stealing for its master or hacker, so it can be used to do a variety of automated tasks, including the following:

Sending and Stealing data or spam files so it works as a spyware virus and keylogger
DoS (Denial of Service)  worm Virus and spyware virus
Click fraud
Ransomware attacks because your computer is unprotected.
Fraudsters use these internet bots to boost earning through automatically clicking on Web advertisements or Internet ads.
They send spam, viruses, spyware, Malware, and Ransomware also.
They steal personal and private information like credit card numbers, bank credentials and send it to the attackers or hacker.
Launching denial of service (DoS) attacks for Ransome against sites.
Manage and view Website traffic as Google Webmaster or Analytics does with our website but these are safe.
You May Also Like:- 
As the research and predictions of "
web bot predictions 2016",
 More commonly, however, the systems of everyday users are the main targets of these attacks.So we have to Protect our Computer against These Internet bots.and If you want to know that How to
remove Internet Bot infection
from our Computer then the answer will be very simple and we will do the similar thing as we do with other harmful codes and viruses.
For Viruses, We use Virus removal software or Antivirus software.For Malwares  We use Malware Removal Tool or Anti Malware.For Spyware We Use Superantispyware tool or SpywareBlaster.Thus For Bot we will use Bot Removal Tools or AntiBot Tools, Some of the Best Bot Removal Tools are as Following:-
Best Bot Removal Tools:-
Quick Heal Bot Removal tool
Phrozensoft Mirage Anti-Bot
Norton 360 
Trend Micro RUBotted
BotHunter
Avira BotFrei
Norton internet Security
How to Protect Your Computer Against Internet Bots?
To Remove internet Bots From your Computer you just have to download one of the above bot removal tools and then start a complete scan.wait for the complete the scan and then click on remove or repair option in these tools.And To Protect your Computer from these bots, Security experts at Symantec offer the following advice:
Install top-rated security software as listed above start a complete scan and then remove them from your computer.
Configure your software's settings to update automatically.
Increase the security settings on your browser.
Limit your user rights when online.
Never click on attachments unless you can verify the source.
Ensure that your system is patched with the most current Microsoft Windows Update.
Set your computer's security settings to update automatically.
You may Also Like:- 
So in this Post, We have talked about Internet bot, their Work, and how to protect against them.Day by Day risk on our privacy and digital data is increasing, And These Bots Play a big role in stealing data.We Recently saw the effect of Ransomware and now the internet bot.To Keep Our data and Computer Protected we have to use updated software and OS because They come with Already Patched Files. So they can't be hijacked or hacked.Share your Thoughts in Comment Section, Share with Your Friends and Keep Visiting.