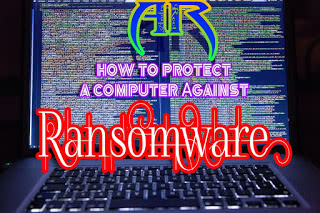 How to Protect a Computer Against Wannacry Ransomware – Tips and Tools
Have You heard or read about Wannacry Ransomware in last few days over the internet? and I think you are also worried about Your Own Computer and data in it, so you are at a right place today.In this post, we will discuss Ransomware and how to Protect a Computer against Ransomware.So, first of all, Let us Talk about Ransomware.
The Word Ransomware is made of the word Ransom which means "a consideration paid or demanded for the release of someone or something from captivity", And According to wikipedia "Ransomware is a type of malicious software designed to block access to a computer system or data until a ransom is paid. Simple ransomware may lock the system in a way which is not difficult for a knowledgeable person to reverse, and display a message requesting payment to unlock it."
Some of the very popular Ransomware are as following:-
Reveton
CryptoLocker
CryptoLocker.F and TorrentLocker
CryptoWall
Fusob
WannaCry
Ransomware Protection
is very important in present time because Our most of the important files, Documents and data are stored in computer's Harddrive, And we will lose our important data if our Computer is not will be well protected against ransomware.
What is Wannacry Ransomware ?WannaCry or wcry stands for Wanna Decryptor. Wanna Decryptor is a ransomware program which is used in latest cyber attack over more than 100 countries and affected 36k+ Computers. Basically, Ransomware encrypts or you can say that locks all the data on a computer and leaves the user with only two files: instructions and the Wanna Decryptor program itself. Most of the Computer system is got affected by mail's Attachments and when user download and open that file in attachment, it tells computer users that their files have been encrypted, and show a message with amount and time to pay it, and a warning that their files will otherwise be deleted. It demands payment in Bitcoin, gives instructions on how to buy it, and provides a Bitcoin address to send it to.
                                                                                                         To Protect Users and their Data Security researcher has activated a "
Kill Switch
" which apparently stopped the WannaCry ransomware from spreading further, But it is not the end of wanna cry Ransomware because the
new version of Wannacry Ransomware  Arrived
.Read the well-explained article 
here @ The Hacker News
So now let us start the main part of this post which is How to Protect Computer Against Ransomware or Ransomware Prevention Tips:-
Also Read:-


Apply The Emergency Patch
If You are using an older version of Windows OS like Windows XP, Vista, Server 2003 or 2008 than applying the emergency patch released by Microsoft.or
Keep your System and Antivirus Up-to-date
Use Latest Softwares, drivers, and Antivirus.Antivirus is a very important thing because Virus definitions have already been updated to protect against this latest threat.so if you are using updated system and antivirus than the risk will be reduced.
Microsoft says – "WannaCrypt was designed to work only against unpatched Windows 7 or earlier os and Windows server 2008 systems, so Windows 10 PCs are not affected by this attack".So if you are using any older version of Windows OS than immediately update it to Windows 10.
Disable SMB by following steps which are described by Microsoft here.Server Message Block (SMB) operates as an application-layer network protocol mainly used for providing shared access to files, printers, and serial ports and miscellaneous communications between nodes on a network. It also provides an authenticated inter-process communication mechanism.Or Install the Latest released
Modify Firewall's configuration
Enable Firewall because Firewall can protect your computer from many harmful things and it also the power to control connection, ports etc.And after enabling it Modify your firewall configurations to block access to SMB ports over the network or the Internet. The protocol operates on TCP ports 137, 139, and 445, and over UDP ports 137 and 138.
Phishing is very common and popular way of hacking and there is a simple way to prevent phishing is that Check the URL carefully. so if you feel anything suspicious and difference from original in the URL than don't click on it or open it.
Backup is the most important defense against ransomware. Removing Ransomware is not a proper solution because it is just a way of getting back the system, not the data that was on it.
Think twice before downloading Attachments
If you receive e-mails with attachments from unknown Person/ mail then please avoid it or scan it with Antivirus, anti-malware etc before opening.because email is an easy and popular way of spreading Infection and attack.You also have to be careful on social media and attachments on them.


Above are some tips which can be helpful for Wannacry Ransomware prevention.As we explained in introduction paragraph that Ransomware basically encrypts data and Ask for money to decrypt it.But no-one can take guarantee that you will get your data or this will not happen again so you have to protect your computer Against ransomware with the help of above tips.
 There are also some Anti Ransomware tools that can help you to protect your computer.But there is a problem with these tools that You'll have to find a decryptor that is specifically made for a certain type of ransomware.so here are the name of Some best Ransomware removal tools or best Anti-Ransomware tools:-
Anti-ransomware Tools
All tools have their special quality and you can read about them by going through their website.You'll also have to find a decryptor that is specifically made for a certain type of ransomware.sohere is the list of Best Anti-Ransomware tools.
BitDefender anti-ransomware
Trend Micro lock screen ransomware tool
Kaspersky anti-ransomware tool
Malwarebytes anti-ransomware
Avast anti-ransomware tools

Also Read:

Conclusion:-
In this Post, We have discussed Ransomware and tips to protect a computer against it. And now after completing this post, you can easily understand that upgrading Windows OS to Windows 10 and Regular Backup is the best defense against Wannacry Ransomware. Removing Ransomware is not a proper solution because it is just a way of getting back the system, not the data that was on it.If you have any other suggestions or tips you can share with us and with others by using the comment section.