Amazon Echo or Echo is a brand of smart speakers with Alexa developed by Amazon. Amazon Echo became widely available in the United States in June 2015 and in the  United Kingdom in September 2016.The second-generation Echo is available in 34 countries from December 2017.Amazon Echo has first launched in India back in October 2017, but it was only available on an invite basis. And now after 4 months, No More invitation required to Buy Amazon Echo in India.Now Everyone can own this Awesome SmartSpeakers in India.So today is this post we will talk about the Amazon Echo Indian Variant and is there any improvement in it.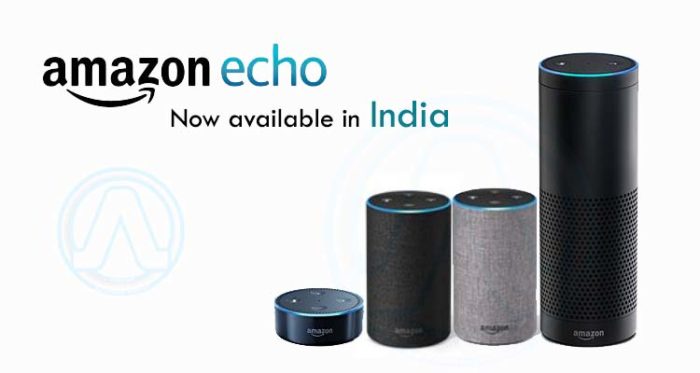 Recently we have compared the two popular smart speakers Google Home and Amazon Echo and if you want to know them in details you can visit The Ultimate Comparison: Google Home Vs Amazon Echo.In that comparison, We found that Amazon Echo was better than Google Home.So it is a good thing that Amazon Echo is now launched in India for everyone and without any invitation. So Everyone can buy Amazon Echo in India with some great offers and extra features.
Let's Talk About Amazon Echo and extra features which are added to it.
Amazon Echo
Amazon Echo or Echo is a brand of smart speakers with Alexa developed by Amazon. The devices connect to the voice-controlled intelligent personal assistant service Alexa, This voice-controlled intelligent personal assistant service Alexa respond to the name "Alexa". the word "Alexa" is a "wake word" for the device and it can be replaced by the user to "Amazon", "Echo" or "Computer". The device is capable of voice interaction, setting alarms,  music playback, playing audiobooks, making to-do lists, streaming podcasts, and it can also provide other real-time information like weather and traffic. It can also control several smart devices acting as a home automation hub.
Amazon Echo continuously listens to all the speech using the Echo's microphones, To monitor for the wake word to be spoken.Echo's microphones can be manually disabled by pressing a mute button to turn off the audio processing circuit.Echo devices require a wireless Internet connection in order to work and process.Amazon Echo's voice recognition capability is based on Amazon Web Services and voice platforms Yap,  Evi, and IVONA.
Amazon Echo in India: Extra Features and upgrades
There are some Extra features and upgrades in Amazon Echo and especially in the Amazon's Voice assistant service Alexa.Alexa has been upgraded to work with Indian voices and requirements. Other Extra Features are as below.
Amazon Alexa in India has been upgraded to work with Indian voices and requirements.
Amazon Alexa has a different and a more familiar voice.
Alexa to Alexa voice calling to voice call your friends and family.
The Drop-in feature works for room to room calling.
Features of Amazon Echo:
Amazon Echo is powered by voice-controlled intelligent personal assistant service Alexa.

Natural lifelike voices which are a result of a better speech-unit technology.
Sophisticated natural language processing (NLP) algorithms built into the Echo's text-to-speech (TTS) engine.
Multi-user Support.

 Amazon Echo can be easily used

To play music,

To set alarms and timers,

Provide information and News,

To check your calendar

For weather report 

and sports scores,
To manage to-do and shopping lists,
To control smart home devices,

Powerful speakers that fill the room with immersive, 360° omnidirectional audio, and deliver crisp vocals and dynamic bass response.

With inbuilt seven microphones, and technologies like beam-forming technology, and noise cancellation,

Echo hears you from any direction- even in noisy environments or while playing music.

You can easily control some smart gadgets and devices like lights, switches, and more with compatible connected devices from Philips, Syska, and others.
Amazon Echo can be linked with a Fire TV device, So video playback options are available but, It lacks to broadcast music.

Alexa Skills: Alexa is continuously improving and getting smarter and adding new features and skills.

Now you can Ask Alexa to order food from Zomato, request a ride from Ola, book a carpenter from Urbanclap, and many more services just by your voice.

Just ask for a song, artist, or genre and it can play music from your favorite services like Amazon Prime Music, Saavn, TuneIn, and more.

Supported Sevices with Amazon Echo:
AccuWeather
local radio stations
TuneIn
iHeartRadio
BBC
NPR
ESPN
Amazon Music
Pandora
Spotify
IFTTT
Nest thermostats
Apple Music
Google Play Music
From Phone & Tablet
Google calendar
Wikipedia articles
Wink.
Yonomi
Philips Hue
Belkin Wemo
SmartThings
Insteon
Where to Buy Amazon Echo in India?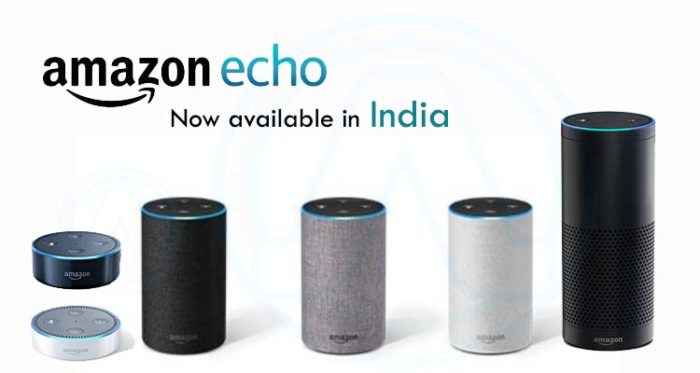 So If the long list of features in Amazon Echo impressed you and you want to own Amazon Echo you are at the right place because here you can found all the Amazon Smartspeakers's Links to buy them easily.
The Amazon Echo can now be purchased Online and Offline easily, Online through Amazon.in and offline through 350 retail stores across 20 cities, including
Croma,
Reliance,
Vijay Sales,
Crossword and more.
Buy Amazon SmartSpeakers Online:
Product Pic
Amazon Product
Price
Link To Buy
Amazon Echo Dot

₹4,499.00

 

Buy Now

Amazon Echo

₹9,999.00

  

Buy Now

Amazon Echo plus

₹14,999.00

  

Buy Now
Conclusion:
I hope you will love it.Amazon Echo in India has some extra features which are really required in these Smart speakers. It has a very wide variety of features Like Noise cancelation, Powerful Speaker for 360° omnidirectional sound, set of headphones, Skillset, Beamforming Technology, More supported Services etc and some of them are really unique that Google home or Apple Homepod don't have, These features make it the Best Smart Speaker. Amazon Echo in India or any other variants still need some improvement, Especially on Amazon Alexa. But it is regularly improving and updating so maybe we will see the better and improved Alexa.It is also noticeable and considerable thing is that Amazon Echo is providing better feature and quality at less price so You Can easily understand that why  Amazon Echo is the best Choice if you want to buy a Smart Speaker in India.