Android is a Smartphone operating system (OS) currently developed by Google, Android OS is based on the Linux kernel and designed primarily for touchscreen devices such as smartphones and tablets.An Android User can do lots of unique work and perform a task which is not possible on any other OS and that's why Android is one of the most Powerful and customizable OS.  But sometimes this accessibility and power can be risky too. Which can be heavy on your phone and pocket. That why we have prepared this post including "8 Risky Mistakes That Can kill Android Smartphone" To Protect Your Android Smartphone From Your Extra Ordinary Experiments ( Mistakes ).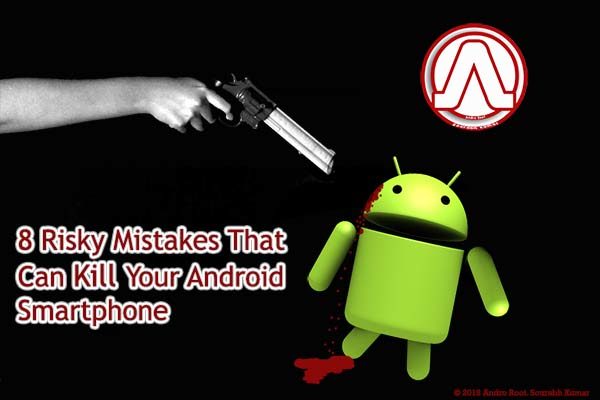 8 Risky Mistakes That Can kill Android Smartphone
So we are with 8 Risky Mistakes or tasks which are very Harmful to your Android Smartphone and It might kill Android Smartphone.
1. Flash Wrong Flash File can kill Android Smartphone
Two phones can look same but every Phone has different NVRAM and specs which consist all the data related to Disk size, Partition, memory address, IMEI, and SN, Now if you will flash a wrong or mismatched Flash File, All Disk Addresses and details and data stored (Disk size, Partition, memory address, IMEI, and SN) on them will be overwritten / Replaced/ lost. So the reach of the flashing software to the disk will be lost.And without it, You can't ReFlash or Unbrick your Phone. so your phone will be permanently hard bricked and Dead.
I personally tried this thing 2 years ago, and hard bricked my phone Micromax Bolt A47.Now that phone is Completly dead due to my extra passion for risk-taking.Bad Engineering Habits I know.Flashing Wrong Flash File can kill Android Smartphone. So before Flashing match the details twice.
2. Flashing without proper Research and knowledge can kill Android Smartphone
Flashing the Wrong Flash file can kill Android Phone but Flashing Without Proper Knowledge of Software and procedure can also enough to kill Android Smartphone.So Make sure to
Always make sure Your Battery is more than 80% Charged.
Use a method that is appropriate for Your Smartphone.And having some guides and tutorials Online.
Use the Right Software.
Check the Cable Connection
Install proper Driver.
Do a quick research before Flashing.
3. Downgrading Android Smartphone can kill It
I am suggesting you please don't try to downgrade your Smartphone because Downgrading is dangerous for Smartphone.You will lose IMEI and SN, Bluetooth, Wifi address so No network, no call, no messages. There are almost 100% Chances & solution:-
There are Also Some more Disadvantages of Downgrading Android Smartphone  Which are listed Below.
Updates come with Bug Fixes, required changes, Some Improvement, and latest features. So If you will downgrade your Smartphone you will lose all of them.
IMEI and SN will be lost.(so No network, no call, no messages) there are almost 100% Chances & solution:-How To Solve Invalid IMEI and Serial Number Problems of Any Android Smartphone
Your smartphone will be bricked.
Some other problems (software +hardware).
So I Hope You will understand all the risk of Downgrading Your Android Smartphone.
4. Forget to take a Complete backup can give you a good headache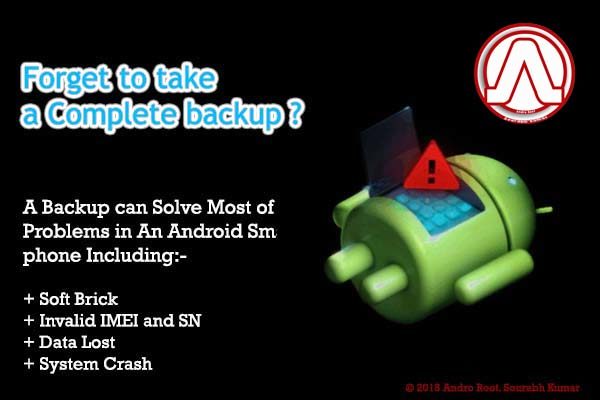 As you can observe in my most of the Android Repairing Tutorials I always suggest you to Take a complete backup of your system in steps.You can understand the importance of Creating a backup before anything with the example: So you are doing some serious Customisation or Modification on Android Smartphone and suddenly something goes wrong. Your Smartphone is not working properly or soft bricked.So what is the best way to solve the problem?
Restoring the complete System will help you in most of the Android Related problem, and what will happen if you forget to take a complete system backup? Nightmare, right?
So always Take a Complete Backup before trying Any Special Modification and tasks.Backup and restore can solve Most of the problems like:
Soft Brick
Invalid IMEI and SN
Data Lost
System Crash
So Don't Forget to make a complete backup of your Android Smartphone.
5. Using Root permission without proper knowledge and Care  can crash the Android system
Android Rooting is performed with the goal of overcoming limitations that carriers and hardware manufacturers put on some Smart devices. Android Rooting is the process of allowing users of smartphones, tablets and other devices running the Android OS to gain privileged control (known as root access) over various Android subsystems.Rooting lets all user-installed applications run privileged commands typically unavailable to the devices in the stock configuration. Rooting is required for more advanced and potentially dangerous operations and tasks including modifying, removing or deleting system files, Uninstalling pre-installed applications, and low-level access to the hardware itself (rebooting, controlling status lights, or recalibrating touch inputs.)That's Why Using Superuser permission without proper knowledge and Care can kill Android Smartphone.
There are many Advantages but there are also some Disadvantages of Android Rooting
Disadvantages of Rooting Your Android

Your Phone Might Get Bricked (if something goes wrong)
You End up Voiding Phone's Warranty.
Your phone will be less secured.
In some model of popular smartphone After rooting you will not get the system update.
If you have ever used Linux then you can easily do many of thing and also you can understand the term ROOTING and superuser(SU) Easily and if not then We Observed's post ( Everything about Android Rooting )will help you to understand Android Rooting and also help you to Easily root your android device.
6. Skipping steps to Backup NVRAM/EFS can Disconnect Your Android Smartphone from World
A partition in Android Smartphone keeps all the most essential data about your smartphone. Like all the disk addresses, Disk Size, IMEI, SN, Bluetooth Address, Wifi Address. And due to something if this partition got corrupted or formatted your device will lose all the connectivity options plus Partition details. Which is really a serious problem. To Keep these data safe you must have to create a backup of this partition. Good news is that There are some excellent software that can backup NVRM and EFS easily.One of them is
EFS-IMEI-Backup by Wanam 

It will help you to keep your IMEI safe from getting corrupted after any bad Rom flashing issues, this is a common issue with devices, So download the app and create a backup.
7. Deleting system apps can Cause System Crash on Android Smartphone
If you will try to Delete Default system apps without following proper steps The system will crash. This task will not kill Android Smartphone but it can seriously damage your system and either you have to replace/reinsert the app or you have to Reset your Phone to solve this problem.So Before doing any extra-ordinary task please think twice and do a quick research.
8. Using Wrong Rooting Method To Root Android Smartphone can cause a boot loop
In my post Why You are Getting Rooting Failed Error? I have discussed that why choosing the proper Rooting Method is essential and important for Your Android Smartphone You can understand why there are many apps and methods to root a single version of Android OS through these key points:-
Before installation in the device, Android OS is modified. Some Extra layer of security is added in these modification process.
Which Android Rooting software or Rooting method will root your Android phone depends on the security type of the OS.
And security type of the OS depends on the Knowledge of Developers of the company or OS Provider.
So Type of security varies from OS to OS, Company to Company, Model to Model and Version to Version.
Before Trying anything always do a research and make sure to follow every single step carefully.
You May Also Like:
5 Unique Invention to Harvest Eco-Friendly Energy
How to know if your phone is hacked or leaking data?
That's it Guys, I hope you will like this post. I prepared this post because there are tons of post about What you can do with and on Android Smartphone but There is not a single post about what to not do on Android. So I hope it will definitely help you to do fewer mistakes on your Android Smartphone. At last, i want to say that "Doing mistakes is a way of learning and gain Experience. I shared my Experience with you and you can share your using the Comment Section below".Keep Visiting, Keep Sharing. Thank You.